Enrol for Carnatic Summer camp for kids now!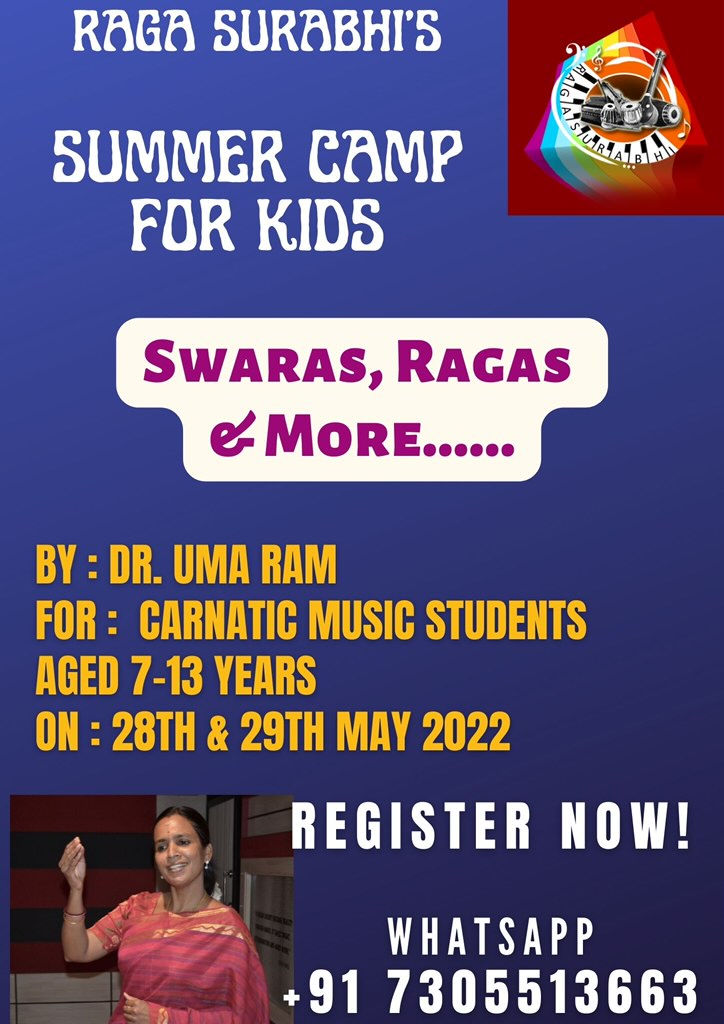 The Raga Surabhi Weekly Quiz Contest:
Quiz 670 (Open) | Quiz 669 (Closed) | Leaderboard (May, 2022) | Blog ()
Varnams
---
We are happy to launch this new segment on varnams in Raga Surabhi after several rasika requests. We plan to grow our varnams collection in the coming weeks. Watch this space!
Vanajakshiro Kalyani (Week 334: Jan 16, 2016)
Chalamu Seya (Week 326: Nov 21, 2015)
Entho Prema (Week 349: Apr 30, 2016)
Evvari Bhodana (Week 272: Nov 08, 2014)
Intha Modi (Week 281: Jan 10, 2015)
Jalajaksha (Week 277: Nov 13, 2014)
Karunimpa (Week 286: Feb 14, 2015)
Neeve Gatiyani (Week 354: Jun 04, 2016)
Ninnu Kori Mohanam (Week 254: Jul 05, 2014)
Ninnu Kori Vasantha (Week 284: Jan 31, 2015)
Sami Daya Juda (Week 309: Jul 25, 2015)
Sami Ninne Kori Sriragam (Week 296: Apr 25, 2015)
Sami Ninne Pantuvarali (Week 290: Mar 14, 2015)
Sami Ninne Shankarabaranam (Week 256: Jul 19, 2014)
Sarasuda (Week 306: Jul 04, 2015)
Valachi Vachchi (Week 318: Sep 26, 2015)